In our Solar Landmark series, we use Aurora's solar design software to "travel" to famous landmarks and investigate their potential for solar energy generation—all from the comfort of our offices in California. We've explored solar designs for the White House and Buckingham Palace, so we thought it was time we set our sights on another executive residence, this time in Canada.
While most of our Solar Landmark articles are hypothetical, we're excited to feature a landmark where a solar project is being actively championed.
Nonprofits Emerging Leaders for Solar Energy and Solar Head of State are collaborating to advance a proposal to install solar on Rideau Hall, the official residence of the Governor General of Canada (the Queen's representative in Canada) in Ottawa, Ontario.
Aerial view of Rideau Hall. Source: Google Maps.
Emerging Leaders for Solar Energy (ELSE) is a network of young professionals and students working to build a strong solar energy future across Canada. Solar Head of State (SHOS) provides solar installations for executive residences around the world to inspire the adoption of solar and provide leaders firsthand experience with the benefits of renewable energy.
ELSE and SHOS are proposing a small 10 kW solar installation that would offset some of the energy consumed on-site. An online monitoring portal and on-site kiosk would demonstrate in real-time the energy being generated. With approximately 200,000 visitors touring the site annually, this project could have a great educational impact. "We believe this symbolic project will demonstrate how solar energy can play a vital part of our energy mix," says Mitchell Niles, ELSE National Board Member.
[Note: This Solar Landmark article is for illustrative purposes only and is not intended to reflect the exact details of the project ELSE and SHOS are proposing to the Canadian government.]
Rideau Hall
In addition to being the official home and workplace of the Governor General, Rideau Hall is where Canadian Prime Minister Justin Trudeau was sworn in. The Prime Minister and his family also currently live on the property. They moved into a cottage on the grounds of Rideau Hall as the government prepares to renovate 24 Sussex, the official residence of the Prime Minister.
This majestic building, which has 175 rooms spanning nearly 100,000 square feet, is the largest official residence in Canada's Capital Region. As you might expect for a building of this size, the electric bills are nothing to laugh at—a 2009 newspaper article reported that Rideau Hall had an annual electrical bill of $254,872. So beyond demonstrating the government's support for sustainable sources of energy, a solar installation would be a great way to save taxpayer funds!
Analyzing the Roof Structure
The first step in designing a solar installation is evaluating the site. Using satellite imagery, Aurora enabled us to create a model of the site and analyze the roof structure. Aurora's Automatic Edge Detection algorithm, which automatically calculated the direction of each of the roof planes (the azimuths), made this process much easier.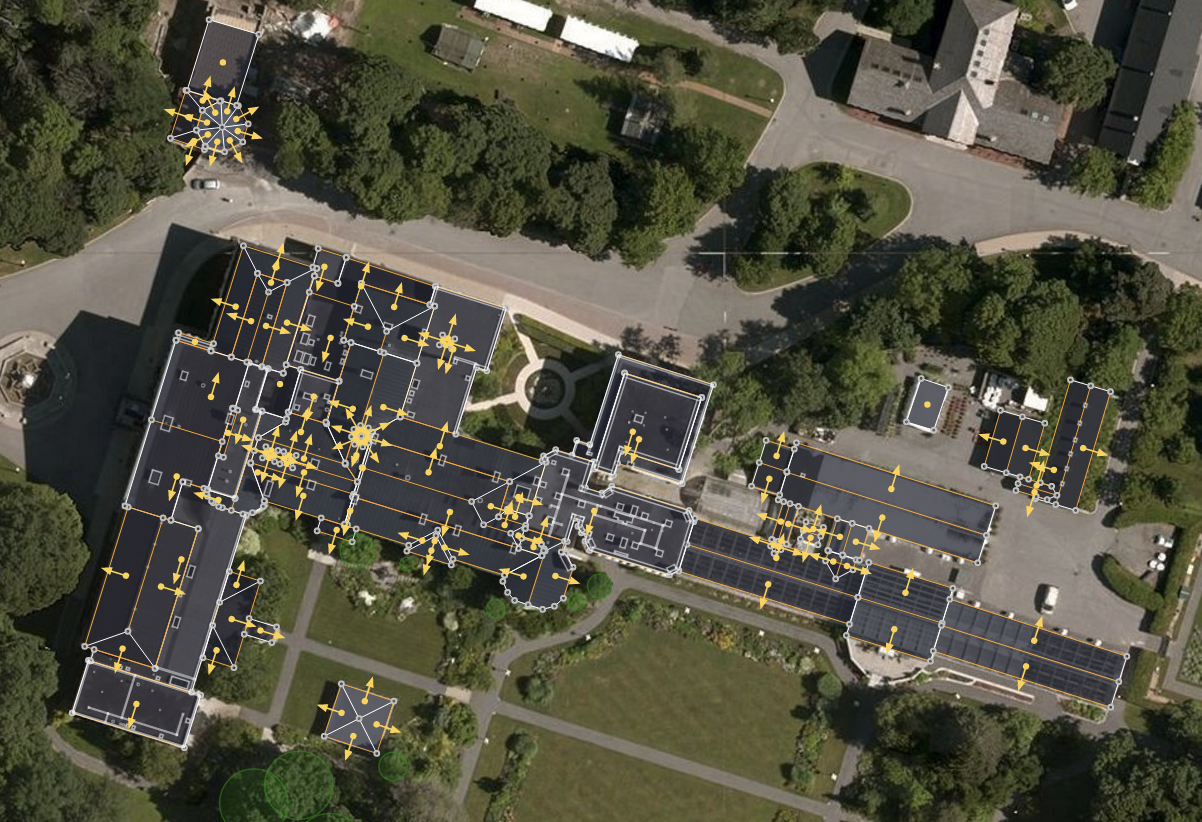 An aerial view of the site model of Rideau Hall, as designed in Aurora. The arrows indicate the azimuth of each roof plane.
Next, we calculated the available sunlight (irradiance) at each point on the roof surface. Aurora's shading engine allowed us to assess this remotely, with the same level of accuracy as if we had taken on-site shade measurements. To do this, Aurora takes into account the presence of trees and other obstructions (like chimneys) that would cast shade, as well as data from a local weather station. The image below shows the resulting irradiance map of the roof. Lighter sections indicate greater solar energy availability.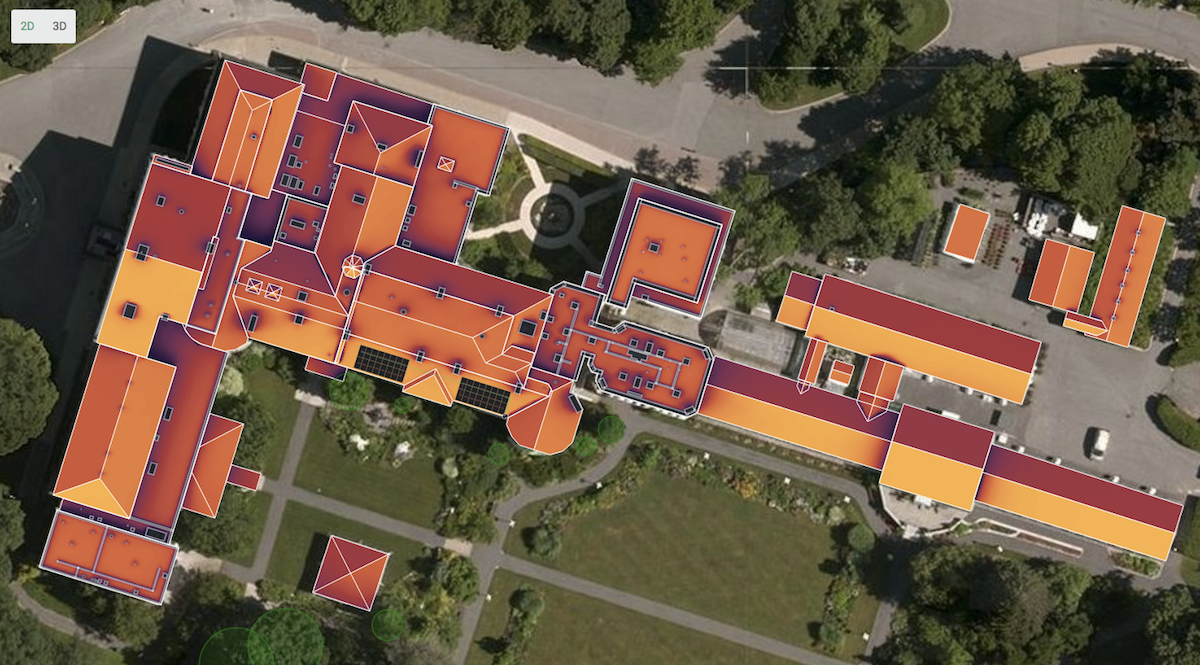 An irradiance map of the roof of Rideau Hall. Lighter colors indicate greater solar energy availability.
As you can see, Rideau Hall has a complex roof structure as well as a variety of obstructions (chimneys, vents, and skylights) that would interfere with placement of a solar array. Based on this, we propose placing two arrays on sections of the back of the building. This area has no obstructions and high irradiance, and would have less visual impact on this historic site.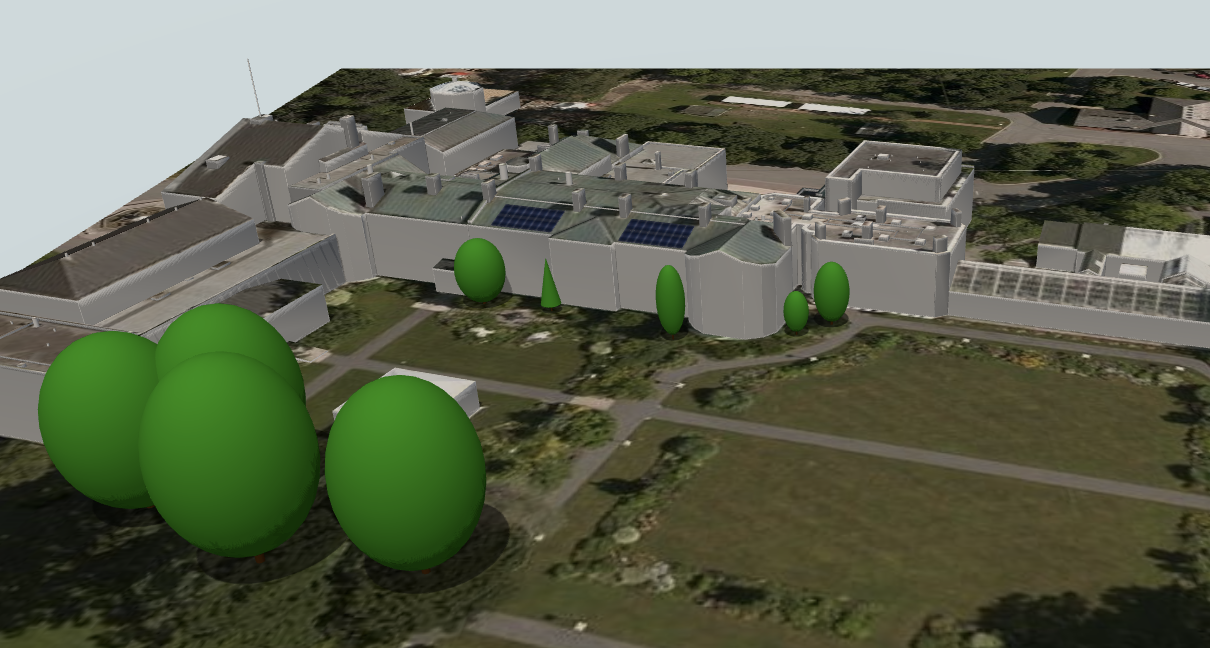 3D site model showing the proposed 9.92 kW solar installation.
Simulating energy performance
Next, using Aurora's performance simulation engine, we explored how much energy the system would produce annually, given local weather patterns throughout the year. Our analysis reveals an estimated annual production of 12,079.36 kWh.
Aurora's Performance Simulation Engine models projected energy output of the system for each month of the year.
Aurora's loss tree diagram shows exactly where energy output is lost compared to the maximum possible output under ideal conditions.
Environmental Impacts
The system would offset greenhouse gas emissions equivalent to planting 4,639 trees, driving 430,749 miles fewer per year, or taking 38 cars off the road!
While the proposed installation is small, its educational reach has the potential to be great. Plus, the Canadian government has established a vision of sourcing 90% of its energy from non-emitting sources by 2030 , so meeting some of Rideau Hall's energy needs with solar would show commitment to this goal. Add to that the direct environmental benefits the system would provide, and this sounds to us like a great deal for the government and the Canadian people.
We're excited to see how this project develops under the leadership from Emerging Leaders for Solar Energy and Solar Head of State!