In this series, we're highlighting some of the themes from our Sunrise Demo Day. In this installment, we'll investigate how Sales Mode and Contract Manager can help you reimagine how you sell solar — closing more deals, faster.
Selling solar can be complicated. Just think of all the factors that play a role in a successful sales proposal alone. 
A solid proposal doesn't just involve the number of panels and where to place them on the home for optimal energy production. It also needs to include accurate pricing and usage estimates, any rebates available for the homeowner, and financing options.
You might have experienced this yourself: Closing the deal with a potential customer sometimes only happens after numerous back-and-forth conversations with ongoing changes, which means you constantly recreate new proposals and contracts to include every new amendment. All this extra time spent on adjusting details and fixing errors can lead to you having to cover the costs — or to the customer choosing a competitor in the meantime.
A major focus of Sunrise demo day was finding ways to make your solar sales processes more efficient. Below are four steps that will help you reimagine the way you sell solar — save time, streamline the selling process, and close more sales, faster.
STEP 1: Deliver Detailed Accuracy
Obviously, incorrect or inaccurate information in a proposal is completely unacceptable — to the potential customer or you. The devil is in the details, though, and not being able to explain and show factors like accurate monthly payments, monthly and annual savings, and potential financing options can be detrimental to your sales pitch.
To make sure you make the most of your contact with your potential customer, the more detail you can show on the spot, the better.
For example, to fully explain system costs and savings to your customer, show them the details that impact those variables: Where each panel will be placed on their home, where heavily shaded areas are, and even how the movement of the sun throughout the day, months, and year will affect their energy production.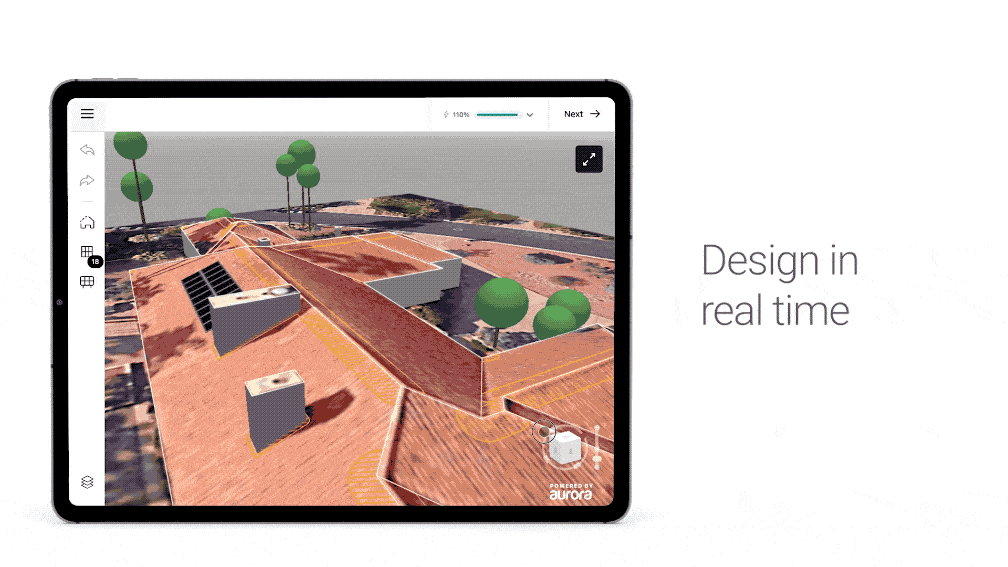 The key is, though, you have to use a tool that lets you demonstrate these factors clearly, and in real-time so you can tweak and polish the proposal with your customer right there — and start to close the window on competitors. That's just one of the benefits of using Sales Mode. Over the rest of this blog, we'll show more ways Sales Mode can help you reinvent the way you sell solar.
STEP 2: Offer On-Site Pre-Approval for Financing
One fact all sales representatives know is that you have to strike while the iron is hot. Getting a proposal the homeowner loves, but having to slow the process down to figure out financing and approval can give competitors a chance to strike.
Imagine this: You've gone through all the details with your potential customer, you've provided accurate estimates, and you've presented all the information they need. They like what they hear and are ready to go solar. Instead of dragging out the process while waiting for financing — and hoping they don't lose interest — you can keep the customer engaged by going over financing options and getting them pre-approved on the spot.
Aurora's Integrated Financing, with Mosaic as a partner, offers just this functionality. And with an on-site pre-approval, you're one step closer to closing the deal.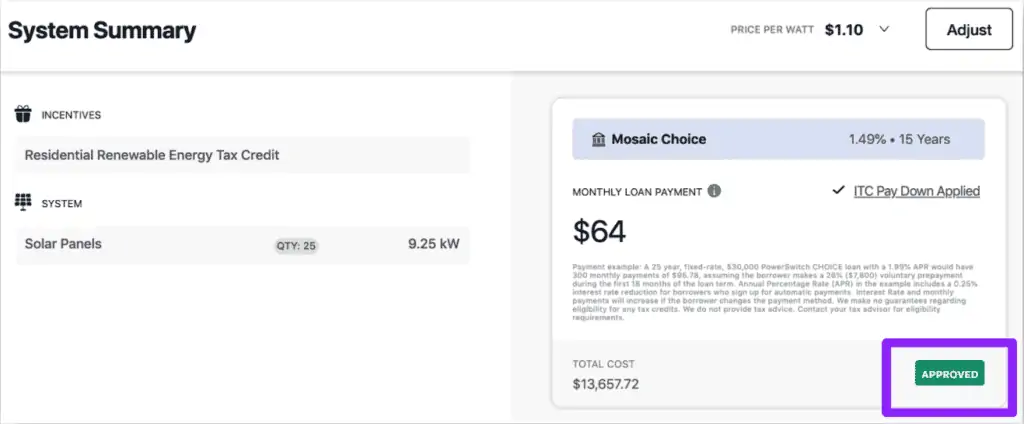 STEP 3: Personalize and Digitize
Buying solar is a significant investment and therefore a big step for most people. It is important to acknowledge the benefits a project like solar has for a homeowner, and you can do so by personalizing their proposal and making it interactive.
For example, you've shown the customer that going solar will be financially beneficial for them, and they have agreed to receive a proposal from you. You send them a digital proposal with a personal login. The proposal looks exactly like what you showed them, including all the possible details they might want to revisit before signing. They can see their home, the placement of the panels, go over all the numbers, apply for financing, and get in contact with you at the click of a button. Seamless, engaging, and personalized.
STEP 4: Automatically Generate Contracts 
Of course, the ultimate goal is to close the deal on the spot. We've stressed that every minute with your potential customer counts and one of the most common obstacles for closing the deal fast is the hassle of creating contract documents. This is where Contract Manager comes in. The traditional contract process requires switching software to manually fill out a contract, printing it out, and sending it to the customer later for signing. This frequently introduces errors, and stops the deal in its tracks. 
Contract Manager pulls in all the data needed from the proposal automatically, and if any changes need to be made to the proposal, they can also automatically be pulled over to the contract in real-time, eliminating any last obstacles and increasing your chances of conversion. When the contract is ready, the customer can e-sign right on your tablet, so you can close the deal on-site. 
Since customers generally get multiple quotes before choosing who to work with, if something drags out the process with your proposal, there is a real risk that the customer will go to a competitor instead. Likewise, if you can present a seamless, painless contract you'll have a leg up.
In Closing…
Solar sales is hard enough. Make it easier — for you and your customers — by using the right technology. Using Sales Mode and Contract Manager you'll present more accurate, more compelling proposals that are ready for customers to sign now. Learn more about all the features Sales Mode and Contract Manager offer by watching the full webinars below. Then, schedule a demo to get all your questions answered.