Many homeowners are now considering energy storage as a way to keep the lights (and other things) on when the power goes out. So, when you're engaging a homeowner on a solar system, making sure they're informed about solar storage options can be a great way to increase the value of your sale. More than that, it's becoming a required box to check if you want to keep up with the competition.
According to Aurora's 2020 Solar Technology Benchmark Survey, 70% of solar installers are already offering solar storage options. It's safe to say that number has only grown in the past year or so.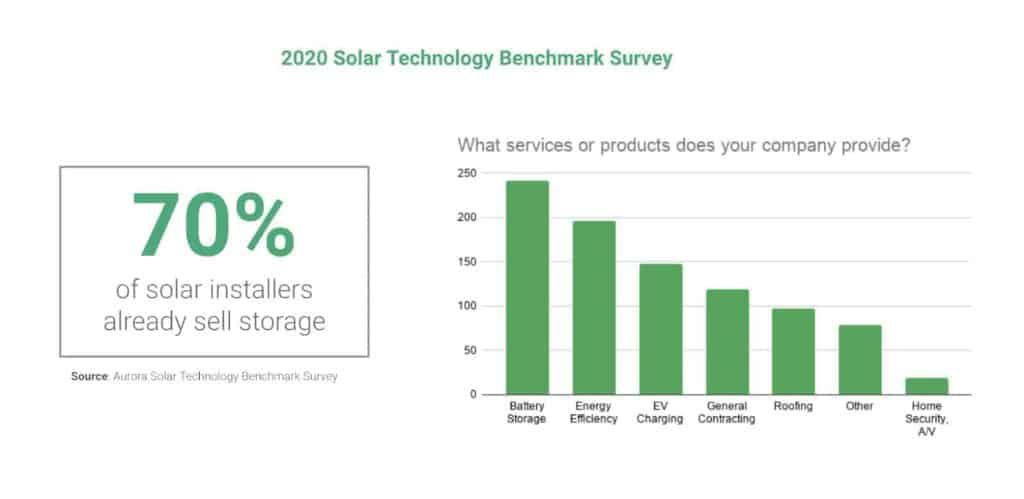 And that 70% shouldn't be surprising. In February, Global Market Insights estimated the market for battery storage was $23 billion with a predicted CAGR of 25.1% from 2021 to 2030. With so much potential upside — and so much to lose to the competition — the question becomes: Are you doing enough to present storage options that might work for your customers?
Why Energy Storage is Important
Despite the strong growth projections for storage, and the high number of installers offering it, we've heard a common complaint: Solar + storage tools haven't really kept up with that demand. The installers that participated in our research, for example, said they were using multiple tools, accounts, and subscriptions just to close a single deal.
While installers already have very refined processes for solar sales, when it comes to selling storage, back-of-the-envelope guesswork or using Excel for calculations is still the norm. In other words, installers are using a number of unscalable processes that don't fit well, or at all, with their solar sales process.
How Aurora's Energy Storage Features Help
To sell storage effectively, installers need a sales proposal that's compelling and understandable for homeowners. Aurora's battery storage proposal compiles the data that customers need to make a buying decision, in an easy-to-understand format, and lets you add a pre-assembled smart recommendation to your solar design within seconds.
While we won't get into every feature in this post, but here are a few highlights:
Add storage

to any existing solar project in Aurora and instantly upgrade your proposals to include solar + storage.

Show the financial breakdown

of the battery system or overall system cost.

Showcase backup duration as hours, days, or a percentage.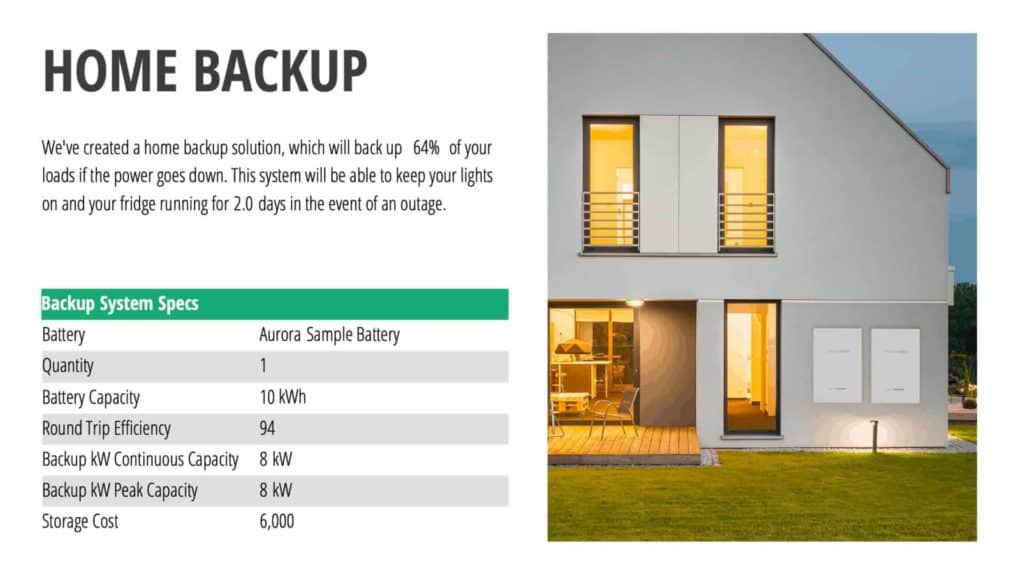 The sizing tool comes with three pre-assembled smart recommendations: Saver, Average, and Power. Each provides battery sizing suggestions while taking daily storage capacity, backup load percentage, and backup duration into account.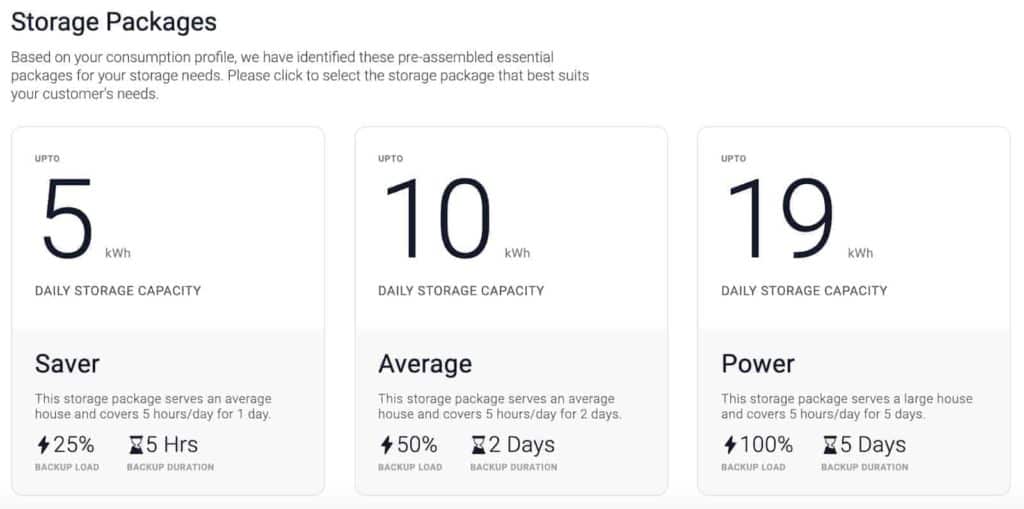 A few highlights of the recommendation engine are:
It's Fast:

It takes less than 10 minutes to develop custom proposals for your customer based on how much backup capacity they desire, and zero time configuring since smart recommendations are pre-loaded in your account.

It's Simple:

Explaining battery backup can be technical and tedious. Aurora's smart recommendations provide an easy-to-understand format so you can clearly explain the setup to the homeowner.

It's Scalable

: Battery Storage for Aurora is easily added to any existing (or new) solar project you have in your account.

It's Customizable:

The Storage Configuration page is flexible so that you can make dynamic changes to your designs in real time.
How Aurora Battery Storage Works
When you go into the storage module, it'll look like this: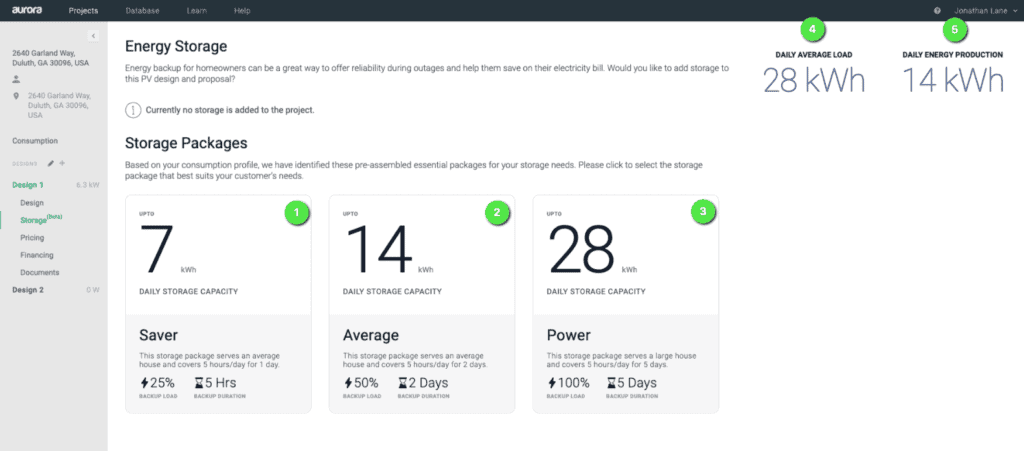 You can see that it pre-populates different storage package options (1, 2, 3 above), and even the daily average load (4) and energy production (5).
Once you choose a package, you can fine tune your system to whatever each particular customer needs in a few key ways, including Backup Load (1 below), Backup Duration (2), Quantity (3) and Model (4) of Batteries, Storage Inverter (5), and Pricing (6).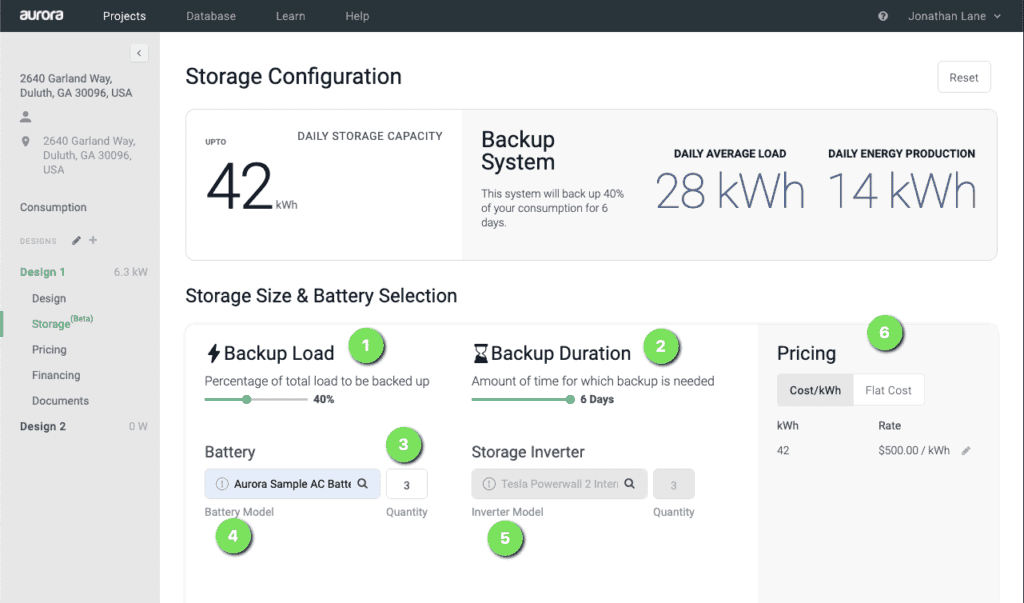 To make things even easier, you (or your account admin) can designate a default battery and storage inverter to be used in all your designs by going to the Settings menu under your name in the upper-right of the app, and then to the Storage tab on the left.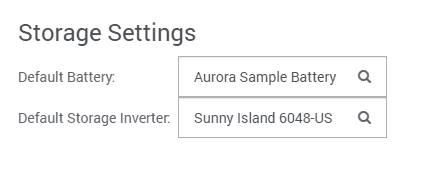 To get more details on what we've discussed here, and learn more about you can do with Aurora Energy Storage, and how, check out the documentation.
And that's it. No more guesswork, no more Excel spreadsheets. Storage is automatically included in your proposals in a way that makes it a compelling option for homeowners.
We'll be back next week with #7. In the meantime, check out our Aurora Top 10: All In One Place page to see all the other features highlighted in this series and look at the schedule for the remaining posts. Then schedule a live demo to learn more about how these features can help you produce more accurate solar designs. 
​​Do you have suggestions for an issue or feature you'd like to see covered? We'll have some Aurora gifts for any ideas we use. Email us here.